Attain higher echelons of achievement through a robust CRO marketing strategy meticulously customized to align with your distinct business needs! Entrust your conversion marketing demands to the proficient professionals of our conversion rate optimization firm and enjoy the advantages of expertly executed Conversion Rate Optimization solutions.
What Is Conversion Rate Optimization?
Shift Your Strategies and Attain Your Growth Objectives
Marketers often dedicate a significant portion of their time, funds, and resources to drive clicks and traffic to their websites, believing it to be the ultimate goal. However, the truth is that generating interest merely constitutes the initial phase of search engine optimization (SEO) and digital marketing. The true challenge lies in transforming those clicks and traffic into profits. This is precisely where conversion rate optimization steps in.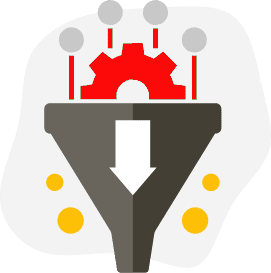 What is CRO, and how does it impact your business's marketing endeavors? Conversion rate optimization, also recognized as CRO or conversion optimization, represents a methodical process involving the testing and enhancement of various elements on your website, encompassing call-to-action (CTA) buttons, content, and website design. The primary objective is to elevate the percentage of site visitors who successfully accomplish the desired goal.
What is conversion optimization, and what does it entail? When defining this concept, marketers often employ purchases as a yardstick of achievement. However, CRO goals and metrics are variable across different brands. Depending on your specific marketing requisites and objectives, a multitude of CRO SEO goals can be established for your business, encompassing:
Sales
Social media shares
Form submissions
App installations
CTA button clicks
Newsletter sign-ups
What does conversion rate optimization signify if you're not adept at implementing the best practices to render your CRO marketing objectives both actionable and quantifiable? Determine your desired outcomes for your CRO website, gain an understanding of your audience's desires, and initiate conversion-oriented marketing campaigns that propel more individuals to undertake your intended action.
Furthermore, as you direct your efforts towards enhancing conversion rates, it becomes essential to delve into various CRO metrics that significantly influence your optimization endeavors and CRO SEO outcomes.
What Constitutes a CRO Metric? Conversion optimization metrics serve as benchmarks that CRO firms monitor during the course of CRO testing to assess your CRO website's performance and uncover opportunities for refining conversion funnel optimization and conversion marketing. These CRO metrics comprise:
Bounce Rate
The percentage of individuals who land on your website's pages and then exit without exploring further. A high bounce rate is indicative of issues with your CRO website. Thus, understanding how to reduce bounce rate is crucial for boosting your website's conversion rate.
Entrance
An occurrence where an online user arrives at your website from an external source, such as a paid campaign, organic search result, or social media post. The more visitors you have on your CRO website, the greater the potential for enhancing conversion rates.
Click-through Rate (CTR)
This metric within conversion optimization reveals how many individuals, having seen your ads, organic listings, or search results, actually clicked on the link to your site. The click-through rate gauges keyword performance and the relevance of your CRO marketing campaign.
Pages Per Visit
This metric measures the quantity of web pages a specific audience segment views on your site. Your average pages per visit reflect site engagement and the ability to provide valuable information.
Page Load Time
This displays how swiftly your website responds to user interaction. Research shows that the initial five seconds of page load time carry the most significant impact on your conversion rate. Optimizing page load time and prioritizing user experience (UX) in web design are crucial for raising the conversion rate.
Return On Investment (ROI)
What does conversion optimization signify if not a growth-centered approach to enhance your revenue? Your business's ROI permits the assessment of the impact of your conversion rate marketing endeavors on your profitability, enabling a reassessment of your CRO marketing allocation.
Leads Generated
Referring to online users or visitors who express interest in your brand's offerings and are primed to progress through your conversion funnel. Effective conversion rates marketing campaigns yield an above-average lead conversion rate and sustained revenue.
Website Traffic
This conversion rate marketing metric denotes the number of online users visiting your website. Analyzing patterns in your website traffic assists in identifying key areas for improving your website conversion optimization.
Exit Rate
The percentage of site visitors departing your website from a specific page after navigating at least one other page. Establishing an acceptable exit rate for various website pages is crucial for enhancing conversion rate.
Cost Per Conversion (CPC)
Also referred to as cost per action (CPA), this CRO SEO metric indicates the cost incurred to acquire a new customer. Leading CRO companies elevate customer value to enhance conversion rate and gradually decrease overall CPC.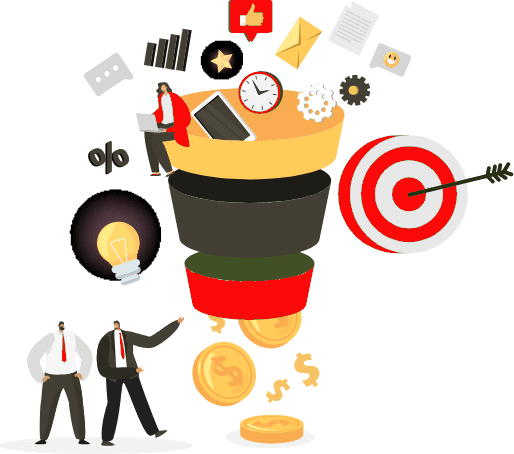 Collaborate with a Trusted CRO Agency and Elevate Your Website's Conversion Rate CRO Agency
In this fiercely competitive online realm, the conversion rate stands as a pivotal key performance indicator (KPI) for fostering business growth.
What is conversion optimization if not a means to optimize the efficiency of your CRO website and transform more visitors into customers? A website struggling to convert is essentially forfeiting business opportunities with each passing day.
Enhance a 1 percent marketing conversion rate to 3 percent, and you've essentially tripled your leads without needing to attract a single extra visitor to your site. This is the enchantment of conversion rates marketing, as delivered by result-oriented CRO companies.
Why wait? Engage our CRO services to delve deeper into what conversion rate optimization entails and initiate the generation of more revenue!
Brandaid Internet Marketing Agency ranks among the most reputable CRO companies dedicated to assisting business owners in comprehending the significance of conversion rate marketing and its pivotal role in achieving online triumph. Entrust your conversion rate optimization to our CRO agency, allowing us to captivate your target audience's interest and guide them through your CRO marketing sales funnel.
Marketing Conversion Rate vs. Click-Through Rate
Monitor Your Metrics and Craft Winning Campaigns
Digital marketers employ both marketing conversion rates and CTR to assess the effectiveness of their SEO and online marketing endeavors. However, do not mistake conversion rate for click-through rate. These two metrics influence distinct stages within your sales funnel.
Our conversion rate experts delved into the distinction between conversion rate and click-through rate to optimize your website and marketing strategies for enhanced conversions.
Comparison Between Conversion Rate and Click-Through Rate
CONVERSION RATE
What Is Conversion Rate?
The conversion rate refers to the percentage of online users who fulfill a specific action out of the total number of site visitors. Comprehending the conversion rate is vital because it directly impacts your business's overall sales and revenue.
Achieving a favorable conversion rate indicates that your website's CRO efforts are on the right path.
How To Calculate Conversion Rate:
To determine a favorable conversion rate, learning the calculation process is essential. Here's the formula for calculating the conversion rate:
[Total Number of Completed Goals (e.g., email subscriptions, sales count, etc.) / Total Number of Website Visitors] x 100 = Conversion Rate
For instance, if you obtained 100 email subscriptions from 1,000 interactions on your website, the conversion rate would be 10 percent.
[100/1,000] x 100 = 10%
What Is a Favorable Conversion Rate?
The average conversion rate for landing pages varies based on factors such as your objectives and niche. What constitutes a favorable conversion rate? The average conversion rate for landing pages across the online landscape stands at 2.35 percent. In contrast, the top 10 percent of companies achieve a minimum conversion rate of 11.45 percent, and the top 25 percent of industry leaders boast a minimum conversion rate of 5.31 percent.
Your CRO endeavors should yield a conversion rate of 10 percent or higher to position your website's conversion rates 3 to 5 times above the average landing page conversion rate.
Consulting with leading CRO companies will help you ascertain the ideal conversion rate percentage for your specific industry.
CLICK THROUGH RATE
What Is Click Through Rate?
CTR is considered a micro-conversion or an event that correlates with your end goals, such as purchases or signups.
How does click-through rate relate to conversion rate? A high average click-through rate suggests that you're making effective decisions. Often, more clicks lead to more conversions.
How To Calculate Click Through Rate:
To address the question of what constitutes a good click-through rate, it's crucial to first understand how to calculate it. Conversion rate experts use the following formula to calculate the click-through rate:
[Total Clicks / Total Impressions] x 100 = Click-Through Rate
For instance, if your paid ads garnered 150,000 impressions and 3,500 individuals clicked the ad, leading to visits to your website, your CTR would be 2.3 percent.
[3,500/150,000] x 100 = 2.3%
What Is a Favorable Click-Through Rate?
Determining what constitutes a good click-through rate sparks debates. This is because the average click-through rate varies per campaign and hinges on factors such as target keywords, ad placement, ad format, geographical location, and niche market.
As of October 2020, the average click-through rate in Google Ads across all industries stands at 3.17 percent for Search and 0.46 percent for the Google Display Network (GDN). In the eCommerce sector, the average click-through rate is 2.69 percent for Search and 0.51 percent for GDN.
Experienced CRO companies can assist in identifying the ideal click-through rate percentage for your niche and devising suitable strategies to attain it.
If you have inquiries similar to what is a conversion rate, what is the standard CRO metric for your niche, or how to enhance conversion rate, connect with our CRO agency. We're ready to address all your CRO queries comprehensively.
Why Conversion Rate
Holds Significant Importance for Online Success
Creating a Notable Impact on Your Bottom Line
Having garnered the interest of your customers, what comes next? Persuading potential customers to make a purchase or take the desired action isn't a simple task.
Research indicates that roughly two-thirds, or about 68 percent of businesses, lack a structured strategy for website conversion optimization. Additionally, Econsultancy's annual Conversion Rate Optimization Report uncovered that brands allocate only $1 for website conversion rate optimization for every $92 spent on customer acquisition.
These statistics unveil a substantial gap between the expenditure on driving traffic and the investment in converting that traffic into website conversions.
By not capitalizing on website conversion optimization, you miss a lucrative chance to amass valuable data, maximize your website's complete potential, and enhance the conversion rate.
Contrarily, opting for CRO services empowers you to:
Utilize Data-Driven Insights
Merely having an interactive web design and generating leads and traffic isn't sufficient to bolster your monthly sales and ensure long-term profitability. A robust landing page optimization strategy is required to attain your goals and unleash your maximum potential.
Conversion rate optimization services offered by leading CRO companies encompass A/B testing, analysis of heat maps, and assessment of user behavior. These tools allow you to comprehend customer behavior and pinpoint specific website elements that require optimization, ensuring a consistent month-over-month (MoM) revenue increase without excessive expenditure.
Cultivate a Customer-Centric Approach
A key to online success lies in achieving a balance between satisfying online users and search engines. Statistics indicate that around 88 percent of online users are less likely to revisit a website after a negative experience – potentially hindering your efforts to enhance the website conversion rate.
Fortunately, conversion optimization services providers prioritize user experience in website conversion rate optimization. Conversion rate experts conduct CRO testing to identify existing user pain points, uncover potential site issues, and strike a balance that pleases both users and search engines.
Enhance Marketing Conversion Rates Results
Efficient sales funnel conversion optimization necessitates a systematic approach to clearly pinpoint marketing opportunities, analyze performing and non-performing metrics, and achieve robust website conversions. Clearly, not comprehending how to boost conversion rate places you at a disadvantage.
With the right conversion optimization services, you gain access to user behavior analytics tools and advanced CRO software, streamlining the process of gathering and analyzing information. These analytics reports enable you to devise an effective marketing strategy that captures your audience's attention and guides them to the bottom of your sales funnel.
Surpass the Competition
Your online traffic holds minimal value if your page visitors quickly leave your site. A high bounce rate indicates a failure to convert traffic into leads and conversions.
Conversion optimization services from a performance-oriented CRO agency can significantly amplify the return on your marketing investments, setting your business apart from competitors. Strategic conversion funnel optimization tactics elevate your revenue even with the same number of website visitors. Conversion optimization proves to be a potent tool that maximizes your marketing endeavors, complementing SEO to bolster your organic traffic, leads, and website conversions.
Boost Your Conversion Rate
and Generate Increasing Revenue Over Time
Within the digital market, numerous myths and misunderstandings hinder the online advancement of several industry leaders. Inexperienced marketers often perceive sales funnel conversion optimization as an added expense rather than a strategic investment that propels their business objectives forward.
Multiple challenges confront brands in the realm of conversion funnel optimization, including:
Conversion Rate
Emphasizing distinctive value propositions (UVPs)
Managing marketing expenditures
Gathering and leveraging actionable customer insights
Conveying a unique brand message
Adapting to evolving consumer preferences and online behaviors
Prioritizing the most effective conversion optimization tactics
Staying abreast of industry trends and market shifts
Adhering to changing marketing compliance regulations
If you've struggled to transform traffic into leads, our CRO agency will evaluate your sales funnel and user experience to identify problematic areas and remove any obstacles hindering your conversion objectives.
Connect with our CRO company to explore methods for reducing bounce rate and enhancing conversion rate through established, ethical landing page optimization techniques.
Brandaid's Conversion Rate Optimization Services
Convey Your Brand Value and Cultivate Online Trust
CRO Audit
Conducting a comprehensive CRO audit on your pages and utilizing heat maps, Google Analytics, and other CRO testing tools are essential to assessing your website interactions. This helps determine whether prospects are engaging in the desired actions. Our conversion rate optimization consultant performs thorough CRO audits and extensive research on conversion marketing. This covers every stage of your sales funnel, including search query intent and the layout and content of landing pages. These strategies enable us to enhance your calls to action and other site components to boost conversion rates.
A/B Split Testing
We firmly believe that data-driven conversion rate digital marketing initiatives are pivotal for successful marketing campaigns. This is why our conversion optimization agency offers a variety of CRO testing solutions, including A/B split testing and multivariate testing. We tailor these approaches to your website's performance and online requirements. Our A/B testing services encompass testing different calls to action or even swapping out various landing pages to identify what yields the best results.
Google Analytics
In contrast to other split testing and CRO audit tools, Google Analytics is a cost-free service that provides deep insights into website engagement metrics and online performance. Our CRO consultant employs Google Analytics to track behavioral metrics, including online traffic, bounce rate, page views, and average session duration. This analysis of user behavior generates real-time, valuable reports. These Google Analytics reports inform our efforts to enhance CRO SEO and elevate conversion rates.
Heat Maps Testing
Heat maps serve as valuable visual depictions of user engagement, interests, and interactions as visitors navigate your CRO website. We utilize heat map testing tools to identify site elements that are being overlooked or drawing more attention than necessary. Based on the heat map results, we implement appropriate changes to your call to action button, graphics, content, site layout, and other elements. This ensures that your visitors are not distracted by irrelevant page elements.
Website Design and Development
Statistics underscore that simplifying form fields and minimizing them can lead to up to 120 percent more conversions. Clearly, website design plays a pivotal role in improving conversion rates. The arrangement of your landing page, placement of your CTA button, and positioning of specific site elements significantly influence your efforts to decrease bounce rates and increase website conversion rates. To enhance site functionality, accessibility, and usability, our CRO consultant implements best practices in web design and development, prioritizing your landing page optimization.
Search Engine Optimization (SEO)
Minimizing attrition rates and fueling your website conversion funnel requires integrated SEO and conversion optimization services. Our CRO consultant collaborates with other Brandaid digital marketing experts to establish a solid, data-driven foundation for generating qualified leads and converting customers. We conduct necessary split testing of site elements, including CTA buttons, page content, and keyword targeting. This allows us to track user behavior analytics and prioritize creating a positive website experience for improved ROI and scalability.
User Behavior Analytics
Craft personalized landing pages that resonate with your customers' marketing needs and boost your conversions. We identify and analyze user behavior, such as click patterns and browsing and purchasing activities. This helps us discern user trends and attract new and returning visitors for conversions. Crucially, we analyze the disparity in the percentage of converted and unconverted users per campaign. This assists in strategy planning and decision-making.
ADA Website Compliance
Adhering to the Americans with Disabilities Act (ADA) is essential for attracting more customers and ensuring equal access to your website. Brandaid is one of the select CRO companies offering comprehensive ADA-compliant services. Our ADA compliance tool includes features like a seizure-safe profile, keyboard navigation, support for blind users, and orientation adjustments. These features safeguard your brand from ADA compliance lawsuits and guarantee a quality website experience for all visitors. From your call to action button to your content, we ensure full ADA compliance.
Content Writing
Your content must be persuasive and compel action. However, if you're unsure about creating effective site content or crafting a compelling call to action, our conversion rate experts are here to help. With expertise in various industries, our content specialists and online marketing professionals can produce data-driven content that enhances online engagement and boosts website conversions. Contact our conversion optimization agency to learn how we can optimize your calls to action, service pages, and other site content.
Why Choose Brandaid for Conversion Rate Optimization
Unleash Your Business Growth with Tested Strategies:
Brandaid takes pride in possessing over 15 years of experience in conversion rate digital marketing. Since 2005, our CRO company has collaborated with small businesses, local eCommerce stores, enterprises, and multi-location companies to enhance their customer lifetime value (CLV) and gain a competitive edge.
Brandaid stands out in the realm of CRO companies due to:
Fully-Managed Web Services
We don't just diagnose your conversion issues; we implement growth-oriented conversion rate optimization strategies to resolve them. Our CRO agency offers a comprehensive range of services, including local SEO, social media marketing, web hosting, email marketing, and more. Establish a partnership with our trusted digital marketing agency to efficiently address not only your conversion optimization queries but also any online challenges you might encounter.
Tailored Conversion Optimization Services
The effectiveness of our conversion rate optimization solutions is proven, but we understand that each business is unique. Your input matters, and our conversion optimization agency listens attentively. As with all our services, we value your feedback and strive to address the obstacles you're facing. Additionally, we proactively assess your site and traffic data, identifying potential conversion marketing issues or solutions that may not have been considered before.
Expert Insights
Many conversion optimizer tools automate CRO audits and seek out conversion rate marketing issues. Some tools are reasonably decent in this regard. However, an automated CRO audit can't discern nuances such as whether an image or heading conveys the wrong message. These invaluable insights are precisely what we offer to our partner agencies. Need assistance determining the appropriate placement of a call to action on your website? Sign up for our free consultation, and let's delve into your most pressing CRO inquiries.
Well-Rounded Approach
Successful conversion rate marketing campaigns encompass more than just SEO and web design solutions. Our conversion optimization agency adopts a comprehensive conversion rate digital marketing strategy that maximizes the potential of your website and social media platforms. Leveraging CRO audit reports, we enhance your brand's visibility and boost the click-through rates of your call to action buttons. Discover what our clients have to say about the caliber of our account management and conversion rate digital marketing services.
Ongoing CRO Audits
An Econsultancy report revealed that businesses with high conversion rates carry out 50 percent more A/B split testing solutions than their counterparts. This underscores that A/B split testing is an ongoing marketing endeavor. Trends and user behavior are in constant flux. To maintain an edge over the competition, your website and landing page design must adapt. Our CRO agency conducts scheduled A/B testing and regular CRO audits to optimize your website pages and marketing materials, generating more leads and conversions. Should you require a CRO report, we're ready to run campaign audits upon request, analyzing the results and providing you with valuable insights.