Leverage the top-notch reputation management software to optimize your business's online reputation management across various digital platforms. Brandaid's online reputation management software offers a user-friendly interface that empowers you to curate an impressive array of favorable reviews, enhance lead generation, and attain improved search rankings with greater efficiency!
Brandaid's Reputation Management Software
The Ultimate Solution for Cultivating a Positive Brand Identity
Amidst a growing deficit of confidence and a global decline in trust, customers seek out authentic businesses that prioritize authentic relationships. If you're aiming to establish lasting connections with consumers and enhance their overall value, it's essential to engage with them holistically. This involves actively addressing customer feedback, concerns, compliments, and inquiries.
Leveraging reputation management software empowers you to effectively manage your brand interactions and foster strong partnerships for online expansion. Reputable reputation management agencies offer top-tier reputation management tools tailored to your specific business reputation management strategy.
Reputation management software is designed to aid business owners and marketers in tasks such as review monitoring, generating reviews, and maintaining an impressive online reputation.
If you're a market leader juggling various responsibilities from financial management to marketing and customer service, opting for online reputation management tools is your optimal solution for expediting reputation management processes and maintaining favorable customer relationships.
Harness the capabilities of reputation software to streamline intricate digital reputation management practices that often consume excessive time and effort!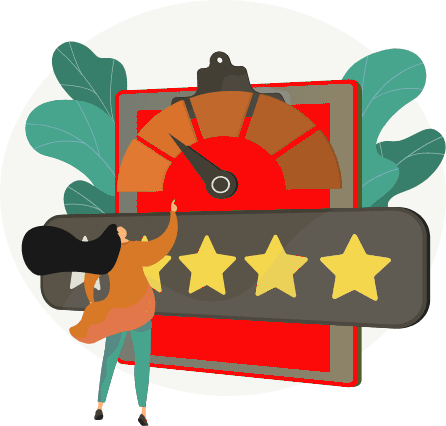 What Constitutes the Features of Exceptional
Reputation Management Software?
Distinguished online reputation management firms provide review management software to enable you to adapt to market fluctuations, enhance brand transparency, and compete on a global scale. But how can you identify which reputation management tool aligns seamlessly with your online reputation management and digital marketing strategies?
Each reputation software comes with its unique attributes and functionalities. The key is to select a reputation management tool that fosters collaborative workspaces and proves cost-effective. Always factor in your financial constraints and review management necessities before making a commitment. Above all, it's crucial to test the reputation software before committing to premium subscriptions. This way, you can pinpoint the review management software that seamlessly suits your needs.
The finest online reputation management software encompasses features like:
Secure configuration options
Real-time review monitoring and review generation
Integration compatibility with leading customer relationship management (CRM) systems
Customizable review notifications
Comprehensive reporting and analytical capabilities
Personalized dashboard interface
These features within online reputation management tools are designed to help you identify opportunities for review generation and marketing, swiftly address customer grievances, and seamlessly manage customer reviews. Online reputation management tools also integrate seamlessly with various content management systems (CMS) and digital platforms, facilitating convenient customer review management whenever necessary.
Invest in cutting-edge online review management software compatible with your business size, marketing needs and reputation management system. Choose Thrive's online reputation management software!
Secure Your Online Identity Through Advanced
Online Reputation Management Software
Brandaid stands as one of the prominent online reputation management firms in the United States, deeply committed to aiding businesses of varying sizes in enhancing their customer experience (CX) and establishing connections with a broader range of potential leads and prospects.
Each reputation software comes with its unique attributes and functionalities. The key is to select a reputation management tool that fosters collaborative workspaces and proves cost-effective. Always factor in your financial constraints and review management necessities before making a commitment. Above all, it's crucial to test the reputation software before committing to premium subscriptions. This way, you can pinpoint the review management software that seamlessly suits your needs.
In collaboration with Rize Reviews, our reputation management agency is dedicated to delivering dependable reputation management software that offers top-tier assistance for online reputation monitoring and digital reputation management. We consistently enhance our review management platform and online reputation services, aimed at generating genuine, verified reviews from your contented customers.
Allow us to assist you in aggregating your online reviews and ratings from diverse review platforms, consequently boosting leads and conversions for your digital assets. Don't hesitate to contact our adept business reputation management team today to embark on this journey.
Why Your Business Requires Reputation Management Software
Enhance Operational Efficiency and Achieve Exceptional Outcomes
When it comes to presenting your business or engaging with clients, the initial impression is crucial. Employing the right review management software simplifies the task of taking control of your customer review management strategy.
The finest online reputation management platform empowers you to:
Establish Customer Confidence
Your brand's reputation management system significantly influences how trustworthy you appear and shapes your client acquisition approach. According to a Microsoft study, 90 percent of Americans deem customer service a crucial factor in business transactions. Moreover, nearly 3 out of 4 consumers are more likely to choose a company with positive reviews. By utilizing advanced reputation management software for agencies, you can effortlessly monitor, aggregate, and analyze your online reviews, fostering positive word-of-mouth about your company.
Harness Business Prospects
Each online interaction presents an opportunity to promote your brand, create positive experiences, and foster customer loyalty. A survey by Small Business Trends indicates that agencies estimate nearly 85 percent of their new business stems from online review marketing. By leveraging online reputation management tools, you can identify trends in online reviews, comprehend customer sentiments, and pinpoint consistent challenges they encounter. These insights empower you to steer your reputation management and client engagement strategy, thereby enhancing your overall business performance.
Expand Your Digital Footprint
Review generation software streamlines the process of acquiring reviews, leading to a reduction in churn rate and an increase in online rankings. As Backlinko highlights, a web page ranking high on relevant search engine results pages (SERPs) garners 31.7 percent of traffic, while pages ranking 10th or lower amass only 3 percent of traffic. By utilizing the finest online reputation management platform, you can generate a surplus of positive reviews and expedite the enhancement of your search rankings.
Swiftly Address Negative Reviews
Research from Website Builder suggests that four or more negative online reviews can deter up to 70 percent of potential customers. Shield your brand from false negative reviews and present your positive brand identity through cutting-edge reputation management tools. Online review management software enables you to receive real-time feedback, implement necessary adjustments in your reputation management system, and promptly engage unsatisfied clients to address concerns.
Why Our Reputation Management Software Excels Beyond the Rest
Retain Clients and Secure Recurring Business
At Brandaid, we comprehend the challenges of accumulating additional online reviews, especially those that are positive. Even if your business provides exceptional products or services, capturing positive experiences and transforming them into online reviews can prove to be daunting. This is where our reputation management company steps in.
Teaming up with Rize Reviews, we offer you top-tier online review management software that strengthens your reputation management endeavors and yields tangible outcomes. Our review generation software not only aids in acquiring more reviews across various online platforms but also maximizes the value of these reviews by expanding their visibility to a wider audience.
Uncover what distinguishes our review management platform from its competitors:
User-Friendly Interface
Conducting business in the contemporary era entails managing numerous company operations and review management responsibilities concurrently. As your dedicated provider of online reputation management services, we comprehend the challenges you face. Hence, we simplify your experience with our review generation software through:
An intuitive interface
Effortless navigation
Straightforward setup procedure
Secure administrative access
Prompt loading times
Complete data encryption
Customized Control Panel
There's no requirement to reach out to our team of reputation management experts each instance you desire to monitor the advancement of your reputation management campaign or engage in online reputation monitoring. Brandaid extends to you an individualized control panel that empowers you to:
Monitor online reviews across various platforms and locales
Observe your cumulative online reviews, star ratings, and rate of responses
Supervise site-specific data
Evaluate your review performance per platform
Intelligent Analytics
Gather and assess online reviews from numerous review platforms within your specific industry by employing our reputation management solution tailored for businesses. Our review tracking tool offers advanced functionalities that endorse:
Integration with over 100 major review sites
Utilization of email and SMS marketing
Integration with CRM and POS systems
Adaptable targeting
Choice of customized sources
Automated online reputation surveillance
Social media sharing
Review Triggers and Notifications
Relieve yourself of the inconvenience of repeatedly opening your review management interface to check for fresh reviews. Our digital reputation management software generates instant email notifications for every new customer review received. With our reputation software, you can also:
Arrange email notifications
Craft personalized review solicitation templates
Monitor email and SMS click-through rates (CTRs)
Supervise your review solicitation endeavors
Personalized Review Module
Upon enlisting in our online reputation services, you receive a mobile-responsive review module, which you can integrate into your website and email signature to establish social validation and simplify your review management process. This review module comes equipped with:
Customizable design alternatives
Review-centric landing page template
Numerous module embedding functionalities
Opt-in landing page template
User-friendly navigation
Planned Summaries
Keep yourself informed about the advancement of your brand reputation management with the assistance of our software for managing customer reviews. Our team at Brandaid optimizes this review management tool to offer you data-backed suggestions for boosting the quantity and caliber of your reviews.
You receive comprehensive monthly summaries encompassing:
Aggregate review count
Changing sentiments over time
Average star evaluations
Email and SMS conversion rates
Total count of invited customers
Distinct open rates
Distribution of ratings and reviews across platforms
Ability to download CSV files
Thrive's Online Reputation Management Services
Boost Audience Engagement and Showcase Your Brand
Online Reputation Management
Statistics show approximately 60 percent of customers would not choose a company with negative online reviews. Take control of your brand reputation and showcase your positive reviews across the web with Thrive's online reputation services. We analyze your existing reputation management strategy and audit your brand profile to provide you with comprehensive online reputation management solutions tailored to your needs, requirements and goals.
Online Reputation Repair
Dealing with a bad online reputation and surge of fake negative reviews? Restore your customers' faith in your company and maintain a healthy online presence with help from reliable online reputation management companies like Thrive and Rize. We determine your company's weaknesses, strengths, opportunities and threats (SWOT) to fix your online reputation and ensure all your succeeding online reputation management strategies deliver positive results.
White Label Reputation Management
Let's face it: You can't please all your clients forever, especially if you fall short of meeting their growing needs and demands. Our white label online reputation management company helps you manage your customers' online review services and produce measurable results that will keep them coming back. With us, you get access to white label reputation management software and white label reputation management services you can brand as your own. You have the option to let us work directly with your clients or perform white label reputation management tasks on the backend.
Review Response
Show your consideration for your customer experience and earn their respect by providing appropriate review responses to positive and negative customer feedback. Thrive is one of the few reputation management agencies that does not automate its review response service. This means all responses to your online reviews are written by online reputation management experts with years of experience in review management service for various businesses and industries.
Review Monitoring
Online reviews are not only a fundamental part of your target audience's decision-making process but are also significant components of your digital success. Stay on top of your customer reviews and gain control of your brand narrative using our online review management software. Our reputation software facilitates multi-site and multi-location monitoring, making it easier for you to keep track of your customer sentiments, identify review trends and launch a suitable course of action.
Review Generation
Salesforce research found that 89 percent of consumers are more likely to purchase from the same store after a positive customer experience. Improve your CRM strategy and encourage your best customers to share their positive brand experience with their peers and across online platforms. Our reputation management agency consistently explores various review generation opportunities to help you build a robust online presence and acquire a steady stream of positive reviews.
SEO Reputation Management
Online reputation management goes hand in hand with search engine optimization (SEO). To present your brand in the best possible light and secure your digital success, you need more unique positive reviews displayed on your website, social media platforms and online listings. Not all reputation management companies, however, are knowledgeable in SEO reputation management. Thrive leverages your positive online reviews to boost your search prominence and fine-tunes your content on all platforms to push down negative search results.
Survey Campaign Management
Keep a pulse on your customers and discover opportunities for reputation management and marketing improvements. Our online reputation management tool supports customer experience survey automation, enabling you to maintain active client communications. Depending on your purpose, audience behavior and information needs, we can launch visual rating surveys, customer satisfaction score (CSAT) survey and net promoter score (NPS) survey, among other types of survey questionnaires.
Social Media Follower Growth
A Forrester research report shows 80 percent of online users go to social media channels to engage with businesses. Display positive customer reviews on your website and social media platforms and generate better results from your social media growth strategy. Our reputation management experts maximize online reviews and client testimonials to promote your business to your target audience, build online confidence and boost your social media following. We also help you formulate new social media growth strategies based on research and data to increase your lead acquisition and review generation rate.
Listings Management
Get accurate online listings across directories and gain more opportunities to showcase your positive customer reviews and five-star ratings! Our listings management experts perform manual listing management to ensure your local business citations are 100 percent accurate and up to date. We prioritize the top 3-5 biggest local business listings in your specific niche to ensure your brand is well represented online. Contact our reputation management company to learn more about our citation management services.
Product Reviews Management
Whether you're an Amazon, Target Plus, Shopify or Walmart Marketplace seller, our online reputation management agency is here to assist you with your product reviews management. We use our review management platform to perform faster online reputation monitoring across your eCommerce site and product listings. With us, you have the option to let our review management experts respond to your product reviews or simply handle the review monitoring.
Review Widget
We offer an easy, customizable widget that can be added to your website to show visitors that you are reputable, trusted and proven in your business. The best part is, our team manages the widget for you on an ongoing basis, with very little set-up time and even less work needed from your team. Our experts can build your business's reputation from scratch or even help to repair it if you have problems with negative reviews.
Two-Way SMS
Open up a world of engagement possibilities with two-way text messaging. Our reputation management experts help you create auto-responses and integrate the two-way SMS API into your software, so you can easily schedule messages, launch review requests and survey campaigns, and automate responses. We're always available to answer your questions and assist you.
QR Code
Get your customers' feedback via a QR code counter at your physical location or send the code directly to them via digital platforms. We offer custom QR code creation for our clients once you sign up for any of our reputation management services. Have multiple locations? We can also create one QR code per location, depending on your request.