Are your social media endeavors not meeting your expectations? In today's landscape, social media operates as a "pay-to-play" platform that demands your full resources: a cohesive strategy, complete dedication, and a well-defined budget. In addition to organic outreach, effectively reaching your desired audience often requires investment in advertising, whether for an ongoing campaign or a one-time sponsored post.
To optimize your online presence, Brandaid seamlessly integrates social media management services into your comprehensive marketing plan. The right Facebook or Instagram management solution has the potential to attract, nurture, and transform followers into loyal patrons. The successful social media management campaigns executed by our team for our small businesses, enterprises, or franchise clients serve as a testament to this approach.
What Does Social Media Management Involve?
Tailored Approaches That Foster Exceptional Customer Interaction
As social media continues to evolve, participants in the market uphold the fundamental purposes of each channel: the trifecta of connection, communication, and community. According to data from Sprout Social, 57 percent of consumers follow a brand's social page to stay informed about new products or services. This underscores the importance for brands to share content that satisfies the need for connection, engages in meaningful communication, and cultivates a sense of community, rather than solely focusing on promotional posts without thought.
This is where social media management comes into play. Also referred to as social media marketing management, it constitutes a facet of social media marketing (SMM) that encompasses the planning, creation, and publication of content on social platforms. This involves consistent evaluations of social profiles and audience research, both crucial components for delivering pertinent content.
At Brandaid, we adopt a comprehensive approach to effectively managing our clients' social media accounts. Our social media management agency combines both organic and paid solutions to yield the most efficient and lucrative outcomes.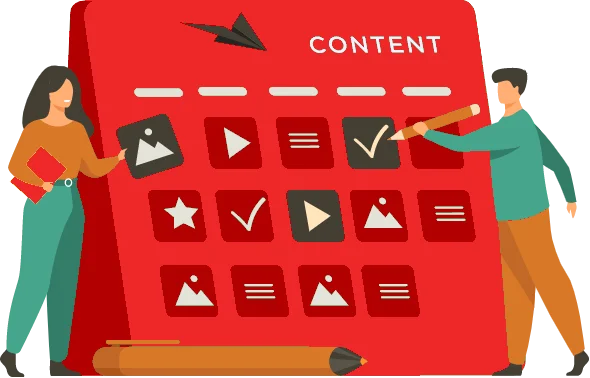 Integrated Processes for Maximum Influence
Social media marketing entails a series of integrated processes designed to establish interconnectedness among your clientele, your content, and your company. Merely sharing links to your content or web pages on your social channels falls short in generating substantial results from your social media endeavors.
Beyond grasping the social media management definition, it is vital to master its core processes as well. This will empower you to better leverage social media marketing, gaining a competitive edge and effectively fortifying your overall marketing strategy.
Here's what your social media management strategy should encompass:
Pathway to Achievement Strategy Development:The blueprint or roadmap detailing your social media objectives, the steps to accomplish them, a corresponding timeline, and metrics for tracking progress.
The social media management definition remains incomplete without acknowledging the significance of strategy. It serves as the guiding plan, allowing you to visualize the shape of social media management for your business. Consider pivotal factors such as which platforms to focus on, your target audience, content types to generate, key performance indicators (KPIs) to evaluate, and the social media management tools to employ.
Pathway to Achievement Inbound Engagement Monitoring:The process of addressing comments, queries, and interactions on all social media content and profiles, fostering ongoing conversations initiated by followers.
Research indicates that approximately two-thirds of consumers seek a connection with brands. Therefore, it's crucial to aim for two-way communication at every opportunity. This principle applies across all your social platforms, whether you're implementing Instagram management services or exploring TikTok management strategies predominantly involving video content.
Pathway to Achievement Analytics Tracking: The collection and evaluation of data against metrics to ensure the attainment of desired outcomes.
Harness the power of data in your corporate, multi-location business, or franchise social media management campaigns. You can monitor essential metrics on your selected platforms, including engagement metrics (likes, shares, and comments), impressions, and click-through rates (for targeted social advertisements).
Why Businesses Require Social Media Management
Digital Solutions That Elevate Your Brand's Visibility
Entrepreneurs and marketers understand the pivotal role that social media plays in any comprehensive digital strategy. Consequently, social media often takes center stage during the initiation of a business or brand.
However, delving into social media marketing swiftly reveals the multifaceted nature of the endeavor, demanding adept navigation and meticulous implementation to BrandAid across various social platforms.
Consider the scope of managing social media for small businesses, which necessitates crafting a cohesive strategy, curating and scheduling top-tier content, promptly addressing customer feedback, fostering user engagement, and orchestrating paid advertising campaigns.
This undertaking warrants its own designated budget, specialized tools, and even a proficient team of strategists!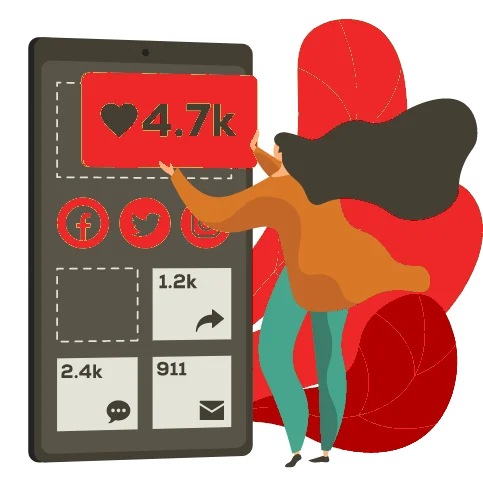 Striking a Harmonious Balance among these Dynamic Elements Constitutes the Essence of Social Media Management.
For numerous enterprises, committing the resources required for comprehensive in-house execution of services like Facebook or LinkedIn management poses a substantial challenge. The additional commitments entailed in services such as YouTube management or Pinterest management are often overlooked. Successfully managing each of these platforms demands a bandwidth that many businesses lack.
Reaping the Rewards without Shouldering the Burden
While it's imperative for business proprietors and marketers to comprehend the genuine effort and expenses inherent in social media marketing, they should also recognize the exceptional advantages that a well-rounded strategy can deliver. If you seek these advantages without the prohibitive costs, ponder how a social media management agency stands ready to provide unparalleled support.
According to Rachel Czeszewski, Senior Social Media Manager (Paid) at Brandaid, internalizing social media management frequently doesn't receive the attention or strategic input it requires to flourish.
Why squander the opportunity to amplify brand recognition, generate leads, and secure sales by attempting to navigate the complexities on your own and falling short?
It begs for its own budget, tools and even a team of strategists and specialists!
The Intelligent Choice: Enlist a Proficient Outsourced Team
You stand to gain significantly by enlisting a proficient social team with a track record of deploying the social campaigns and strategies tailored to your business requirements.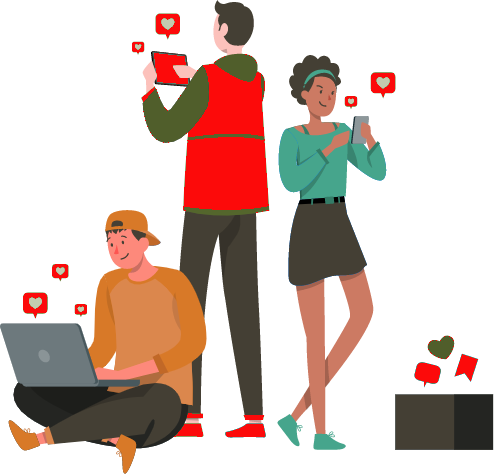 Many professionals opt for software and tools to streamline their operations. Nevertheless, while the finest social media management tools undoubtedly enhance efficiency, Alyssa Tear, Senior Social Media Manager (Organic) at Brandaid, emphasizes that these tools cannot replace the need for expertise. Brandaid offers seasoned social media and content marketers who can align their efforts with your comprehensive marketing strategy, creating content that resonates with your target audience and driving both reach and engagement.
As a leader among social media management firms, we are dedicated to furnishing comprehensive social marketing services across diverse business types.
Organic vs Paid Social: Deciphering the Distinction
Select the Optimal Channels and Strategies to Fuel Your Success
When contemplating organic versus paid social, which is the right choice for you? It's imperative to comprehend the disparity since not all "social media management near me" agencies that surface in search results excel in both strategies. These two facets of social marketing frequently complement one another within a holistic strategy.
Let's delve into defining these two distinct types of social media management strategies and their respective roles in a comprehensive approach:
Organic Social: This encompasses leveraging free tools provided by social networks to cultivate brand awareness, share engaging content with your existing audience or followers, and actively respond to customer feedback.
Moreover, crafting compelling and pertinent content can enhance your chances of featuring in individuals' search engine queries.
Paid Social: This entails deploying paid advertisements and sponsored messages across social media platforms to target specific user profiles, enabling you to reach a broader audience.
Tear (organic) and Czeszewski (paid), our social media managers, outlined some primary goals of social media marketing management based on each type: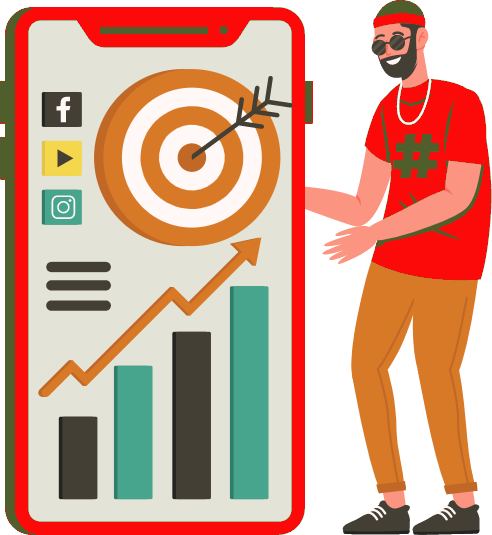 Organic Social
check iconTo elevate brand recognition
check iconTo foster a community on social platforms
check iconIdeal for audiences in the research phase of their purchasing journey
check iconFacilitates nurturing and maintaining relationships with existing customers
Paid Social
check iconFor directing users to your website
check iconTo generate leads for landing pages
check iconIdeal for audiences displaying interest or deliberating on purchasing your product or service
Serves as a complementary component to other paid advertising avenues like search engine marketing (SEM) and Amazon marketing
So, should you prioritize one over the other, or should a blend of both be pursued? Tear suggests that reaching social media users without some budget can pose a challenge. Brands should acknowledge that while the benefits of organic sociality warrant the time investment, allocating a modest boosting budget can be advantageous for initiating your campaign. This underscores the importance of partnering with an agency or expert proficient in both organic and paid social campaigns.
At Brandaid, we boast dedicated organic and paid social strategists to pair clients with the most suitable expert for their precise needs. We identify the optimal platform for your growth, scrutinize outcomes, and effect adjustments based on data. In the long run, collaborating with us can yield enhanced efficiency and effectiveness.
Why Choose Brandaid for Your Social Media Management
Opt for Customized and Flexible Social Packages Aligned with Your Growth Goals
An increasing number of small-business owners are deciding to collaborate with experts due to the complex nature of social media management. This endeavor demands meticulous attention and time to master. Here at Brandaid, we tailor our approach to your specific needs, regardless of your industry, business size, or budget.
Our goal is to pass on the advantages of our nearly two decades' worth of social media marketing expertise to our clients. Your search for "social media management near me" can come to an end. Let our data-driven professionals guide and navigate your social media accounts towards achieving your desired outcomes.
Here are some of the benefits you can expect:
Deliverable-Based Packages icon
Deliverable-Based Packages
From content creation and engagement strategies to analytics and planning, Brandaid handles a wide range of deliverables for clients each month. For example, if you engage our Instagram management services, we will provide a tailored list of tasks within the project timeline. Our social media management agency spares no effort in utilizing the finest tools and tactics to meet, and possibly exceed, your expectations.
Extensive Subject Matter Expertise
Brandaid's Social Media Management Services
Trends and Strategies You Can Rely On for Generating Quality Leads
Social Media Marketing
Social platforms offer the opportunity to connect with your target audience and showcase your products with digital efficiency. Yet, there's a strategic approach to enhancing your brand visibility and attaining business objectives, and it's termed as social media marketing. Our array of social media management services encompasses this process, combining market analysis, strategy formulation, engagement with consumers, and campaign-driven social media marketing management.
Social Media Advertising
Opt for the strategy that entices 63 percent of consumers to click: paid social advertising! Capitalize on this lucrative trend and devise the optimal social media management approach with Brandaid experts. We identify platforms where your target audience congregates and design tailored ads that resonate with them. Advertising campaigns align with your budget, transforming clicks into conversions and maximizing your return on ad spend (ROAS).
Social Media Brand Management
What is social media management without brand management? From overseeing Facebook to managing TikTok, Brandaid conceives, executes, and monitors both organic and paid brand campaigns across multiple platforms. Our tailored solutions empower you to cultivate a positive brand image, amplify your reach, and enhance sales and profits.
Social Media Follower Growth
According to Forrester data, 80 percent of customers seek interactions with brands on social media. To expand your market and grow your social following, enhance your future results with our sustainable growth strategy. Rely on our integrated approach with Facebook, Twitter, and Instagram management services, spanning from social media invite emails to website follower growth features.
Social Media SEO
Direct visitors to your website or ensure your links gain visibility in social search results through effective social media optimization. Utilize guidance from your dedicated social media manager website, disseminating links across your social profiles to increase exposure and extend lifespan. Leverage the fact that search engines can index your organic posts relevant to users' queries with the help of social media management firms.
Website Design and Development
When guiding visitors from your social pages to your website, ensure a user-friendly and seamless experience awaits them. As we manage your social media accounts, we also ascertain that your site adheres to the Americans with Disabilities Act (ADA), is functional, and optimized based on industry best practices. Our web design and development team establishes a responsive, mobile-first digital hub to enhance conversions.
Video Production
Integrate videos across your profiles to aid users in comprehending your product or service. Videos constitute a lucrative addition to your marketing arsenal, and our in-house team is poised to manage the entire production process, an aspect often outsourced by other YouTube management companies. Our seasoned experts conceptualize, film, edit, and finalize your advertisements, demos, explainers, event highlights, or testimonials.
Social Media Content Writing
Studies indicate that over 50 percent of consumers resort to social media for product research. Capture their interest with high-value, engaging posts crafted by Brandaid's social media content management and creation experts. We formulate organic social content that attracts attention and influences decisions among your followers, while paid social content drives traffic and potential leads to your website.
Social Media Reputation Management
Forge a favorable brand identity by nurturing goodwill with stakeholders, responding to reviews, and expanding your social media following. Our solutions encompass online reputation management (ORM), allowing you to mold public perception on social platforms. Gain trust as we accumulate endorsements from your customers – an essential facet of any business social media management strategy.