Whether you manage a local business that has three sites, a country-wide franchise or a multinational enterprise, your brand reputation can make or break your sales. With multiple locations to account for, franchisors must set high standards and provide clear guidelines to satisfy the needs of the corporate level and the goals of the franchisees.
Protect your brand image and take strategic actions to maintain a consistently positive public perception across franchisees with help from Brandaid. Our fully managed franchise reputation management services allow you to stay on top of conversations about your brand across multiple platforms and support company targets on the franchisee level.
What Is Franchise Reputation Management?
Safeguard Your Evergrowing Online Influence
Often, the value of a company is only as good as how it's perceived by the public. Franchise online reputation management (also known as enterprise reputation management) is the process of actively monitoring your brand engagements and taking appropriate measures when necessary to protect your company image.
Reputation management for franchise businesses combines multi-location business marketing, brand management, and franchise search engine optimization (SEO) to gain greater control over your brand information.
With a whopping 91 percent of consumers who trust online reviews as much as personal recommendations, the long-term success of any franchise business rests on its ability to implement cohesive enterprise reputation management strategies across locations.
Brandaid Internet Marketing Agency provides comprehensive franchise reputation management services to help manage your reputation across demographics. We team up with Rize Reviews to automate your franchise online reputation management campaigns and ensure the overall success of your multi-location business marketing efforts.
Discover the difference a hands-on enterprise reputation management solution can make to your business.
Why Is Reputation Management
Important for Franchises and Multi-Locations?
Build and Maintain a Favorable Corporate Image
Your franchise reputation significantly impacts four key components of your brand success: (1) customer loyalty and retention, (2) relationship with investors, (3) employee retention and hiring capabilities, and ultimately, (4) your sales and growth opportunities.
And in today's digital world, where your company's reputation is always under the spotlight, proactive reputation management for franchise businesses is essential.
A well-managed multi-location business marketing campaign combined with consistent franchise online reputation management efforts result in:
Improved Local Visibility
Franchise reviews are among the top seven factors influencing a brand's local search performance (Moz). The more positive franchise business reviews you have across locations, the higher your chances of ranking high in local search results.
Heightened Customer Engagement
A Learn Hub study found that 92 percent of consumers are more likely to engage with a brand with positive franchise reviews. With a smart franchise review management system in place, you encourage more meaningful brand interactions across franchisees.
Good Business Insights
Active reputation management for multi-location brands allows you to gain a better understanding of what strategies work and what needs to be updated in your franchise operations to meet customer and market demands.
Increased Bottomline
Studies show approximately 58 percent of consumers spend more on brands with favorable online franchise store reviews (Podium). The higher the quality and quantity of your franchise reviews, the greater your long-term profitability.
Your Trusted Franchise Business Reputation Management Company
What We Can Do for Your Multi-Location Enterprise
Brandaid Internet Marketing Agency, in partnership with Rize Reviews, has helped some of the largest enterprises across industries protect their online reputation by implementing results-driven online reputation management for franchises.
As your dedicated enterprise review management firm, we don't just focus on generating franchise business reviews, but we also implement integrated multi-location business marketing and franchise business review management tactics to maintain your audience engagement.
Here's how our franchise business reputation management agency helped these multi-location companies gain consumer confidence and loyalty:
Thrive's Franchise Reputation Management Software
Monitor What People Say About Your Business
Invest in franchise business review management now to build a robust online presence.
As a franchise owner, your ultimate goal is continued business growth, which won't be possible without a consistent positive brand image and customer trust. But with multiple locations to manage and different channels to keep track of, how do you stay on top of your franchise business reviews?
Brandaid utilizes a proprietary franchise reputation management tool designed to simplify, streamline, and unify online reputation management for franchises, regardless of the size of your business.
With our franchise reputation management software, you can obtain data for the entire enterprise or focus on specific locations. Our month-to-month subscriptions enable you to witness results in terms of franchise business review volume and score improvement within just 30 days.
Because enterprise review management delivers quick results compared to SEO, we can demonstrate a swift victory more rapidly than other digital marketing services.
Key Features of Our Reputation Management Tool: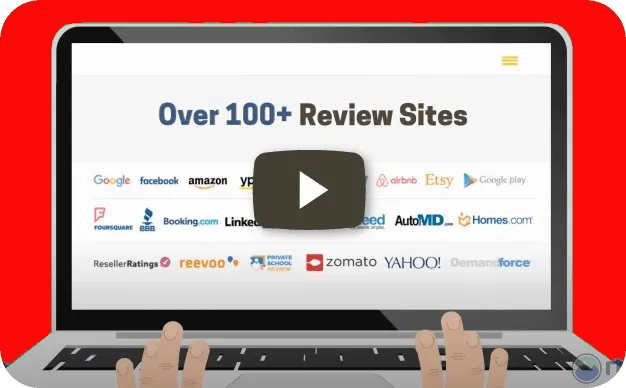 Customizable dashboard
Real-time review monitoring and review generation
Unlimited emails and SMS text messages
Unlimited user accounts
Tailored review notifications
User-friendly interface
Secure admin access
Full data encryption
Integration with over 100 major review sites
Custom review widget
Scheduled reports
Reputation Management Tool
Streamline My Franchise Review Management
Franchise Reputation Management Services
Amplify Positive Brand Mentions and Stay Ahead of Negative Reviews
Franchise Reputation Management Services
Amplify Positive Brand Mentions and Stay Ahead of Negative Reviews
Review Generation
We leverage our franchise reputation management tool to automate your review request process across all locations and increase review volume. Our team collaborates closely with each franchisee to assist them in acquiring more positive online franchise store reviews and strengthening their brand image.
Review Monitoring
Our franchise reputation management software aggregates reviews from platforms such as Google and the Better Business Bureau (BBB) to simplify your monitoring process. It supports monitoring across multiple sites and locations, allowing you to easily manage your franchise reviews.
Review Response
We assist you in developing clear guidelines for responding to both positive and negative reviews, ensuring compliance across the franchise. Our franchise review management experts can also handle the writing and publishing of review responses on your behalf, saving you valuable time.
Video Testimonials
Produce authentic video testimonials for each location effortlessly using our franchise reputation management tool. Our reputation management software permits remote recording of video testimonials, eliminating the need for extensive travel to collect franchise business reviews.
Online Reputation Repair
Need assistance in repairing your online reputation? Our enterprise review management company implements SEO and reputation management best practices to help you regain control of your brand and restore its image. We adopt a meticulous approach to addressing reputation crises, minimizing their impact on your brand.
Listings Management
Stand out and make it simpler for your target audience to discover your local businesses with our listings management service. We help you establish, manage, and optimize local directories for each franchisee while simultaneously adding 5-star reviews.
Product Reviews Management
Our franchise reputation management software supports the collection of both first-party and third-party product reviews. Whether you are selling on your platform or other eCommerce platforms like Amazon or Overstock, our enterprise review management firm can assist you.
Social Media Follower Growth Service
Build an active social media following across all locations and cultivate a community of loyal brand advocates. Brandaid's social media and reputation managers collaborate closely to enhance your social media follower growth strategy and create templates that each location can easily follow.
Survey Campaign Management
Gather honest feedback from your local customers and leverage this information to enhance various aspects of your franchise business. We initiate unlimited email and text marketing outreach campaigns to help you gain credible market insights.
SEO Reputation Management
Shape your brand narrative by ensuring that only positive brand-related content appears when potential customers search for your business online. Our SEO team promotes your positive digital assets across the web, including blog posts and positive online franchise store reviews.
Review Widget
Display social proof and customer testimonials on your website using our custom review widget. This free tool offered to our clients enhances their SEO efforts and boosts brand credibility. Our review widget features customizable settings, flexible website plugins, and mobile-friendly options.
White Label Reputation Management
Are you a multi-location digital marketing agency in need of expert reputation management support? We offer comprehensive white label reputation management solutions to help you generate more franchise reviews for your clients and effortlessly increase your revenue.
QR Codes
Receive your complimentary QR code when you enlist our franchise reputation management service. We can create custom QR codes for each location, directing customers to your Google Business Profile or any preferred review platform for their feedback.
Two-Way SMS
Enhance communication with your customers across locations through two-way SMS. Our two-way SMS service enables you to launch review generation campaigns, follow up with contacts, and receive their responses with ease.