Is your online image negatively impacting your business? According to a Zignal Labs study, a firm's online standing contributes to at least fifty percent of its market worth. Seize control of your online standing and construct a favorable brand identity with Brandaid Internet Marketing Agency's reputation management offerings.
What Is Online Reputation Management?
Create a Strong First Impression with Your Target Audience
Your online standing functions as a trust indicator that decides whether potential clients will engage with you. According to research conducted by the University of Technology Sydney, most consumers are willing to pay more for a product or service from a company with an outstanding online reputation. How does your brand's reputation appear?
No matter if you own or manage a small enterprise, a Fortune 500 corporation, or a multi-location business, you need to uphold a favorable online reputation to establish your brand's credibility and attain greater online visibility. Online reputation management enables you to achieve precisely that.
Reputation management refers to the practice of safeguarding the online image of an individual, company, or organization to influence public perception. Internet reputation management guarantees that online users and search engines find accurate information when searching for your brand online.
When conducting online searches for your company, it's essential to ensure that your internet image aligns with your brand's story accurately. Unfortunately, some business proprietors and marketers tend to overlook their online reputation, leaving them susceptible to various online reputation hazards and emergencies, such as fabricated online reviews and unaddressed customer grievances. When allowed to persist unchecked over an extended period, your brand's reputation may suffer significant consequences.
There are instances where brands that have garnered negative reputations and reviews may also lack the expertise and resources needed to rectify their reputation and make a recovery. This is where the specialized knowledge and services offered by internet reputation companies become invaluable.
Enhance Your Online Visibility and Credibility
with Reputation Repair Services.
Leading online reputation management firms provide comprehensive services for brand reputation management and online reputation repair. Their aim is to safeguard your online reputation, granting you control over your digital presence and search results.
Brandaid Internet Marketing Agency stands out as a reputable internet reputation management firm, dedicated to continually enhancing their strategic reputation repair services. Their goal is to assist you in cultivating a favorable brand image and attracting both new and loyal customers to your business.
Get in touch with our online reputation specialist to explore the numerous ways our services in business reputation management and reputation repair can assist you in restoring your online reputation and protecting the integrity of your brand image.
How a Business's Online Reputation Is Constructed
Keep a close watch on the internet and address unfavorable customer feedback proactively.
Your business reputation is shaped by a multitude of factors. Elements such as online reviews, social media and digital presence, marketing materials, communication strategies, and brand relationships all contribute to your online image. These crucial components play a significant role in shaping discussions surrounding your brand and form an overall impression of your credibility and trustworthiness.
The sooner you start your brand reputation monitoring and business reputation management, the better your chances of identifying internet reputation risks and mitigating the ramifications of fake, negative online reviews early on.
Why a Positive Online Reputation Matters
Develop a Strong Thought-Leadership Brand
In today's era of readily available information, the significance of what people say about your company cannot be overstated. A study conducted by BrightLocal found that a staggering 92 percent of individuals would be unwilling to interact with a company that has a poor online reputation.
By giving precedence to the management of your brand and reputation, you can either remove or rectify information that does not align with your business identity. This will help ensure that your brand is accurately portrayed on the internet. Concentrate on managing your online business reputation, and you can secure a competitive advantage!
Here are more reasons you need to clean up your online reputation and maintain a positive brand image:
Gain Internet Reputation Control
While you have control over your website and online platforms, it's highly probable that there is additional information about your brand scattered across the web that you cannot directly manage. This is where online brand reputation management becomes crucial. A positive online business reputation can cast doubt on the credibility of false negative reviews about your brand, and loyal customers are likely to echo the positive online reviews. This provides you with a degree of control over your internet reputation and instills confidence that your company is accurately portrayed online
Facilitate Better Brand Engagement
Your online reputation significantly influences how people engage with your business. If you possess a negative online reputation and make no effort to improve your internet image, it becomes challenging to garner trust and support from potential customers. Conversely, having a positive internet reputation is a swift and effective means of showcasing your business's trustworthiness. Furthermore, with a positive reputation and favorable reviews, both your clients and employees will feel more confident in advocating for and recommending your brand within their networks.
Demonstrate Your Brand Authenticity
In a global marketplace teeming with millions of businesses, it's crucial to ensure that your brand distinguishes itself. One of the most effective ways to highlight your unique value proposition (UVP) and the quality of your services is through your online reputation. Your online reputation communicates to people what they can anticipate from your company. Given that a significant 79 percent of individuals trust online reviews as much as personal recommendations, amassing more positive reviews and earning 5-star ratings serves as a compelling means to convey your commitment to transparency and exceptional client experiences to online users.
Improve Your Local SEO
Reputation management and follower growth initiatives are pivotal in the realm of social media and brand development. To enhance your community engagement, our team of branding experts diligently oversee comments and interactions across all your social media content and profiles. We proactively respond to inquiries and discussions initiated by your followers and execute precisely targeted brand marketing campaigns to bolster your online presence.
Protect Your Brand from False Information
A single, inadvertently uploaded tweet from your company or the spread of false information about your brand can rapidly go viral, potentially jeopardizing not only your online reputation but also your overall online success. Upholding a reputable brand image serves as a protective shield for your company against malicious and inaccurate online content. When your business encounters challenging customers or difficult situations, negative internet reputation reviews will carry less weight, and fewer individuals will be swayed by fraudulent pieces of content.
Drive Higher Conversions
Online reviews, dispersed across the internet, serve as crucial factors that enable potential customers to form their initial impressions and make decisions regarding your business. Cultivating a meticulously managed online presence is a dependable means of attracting your desired audience and turning them into loyal, long-term customers. A favorable online business reputation fosters the growth of relationships that extend throughout your network and bolsters conversion rate optimization (CRO) campaigns. As demonstrated by a study conducted by the Spiegel Research Center, maintaining a positive brand reputation can elevate on-site conversions by as much as 270 percent.
A Reputation Management Firm
Delivering Tangible Outcomes
Direct More Potential Customers to Your Business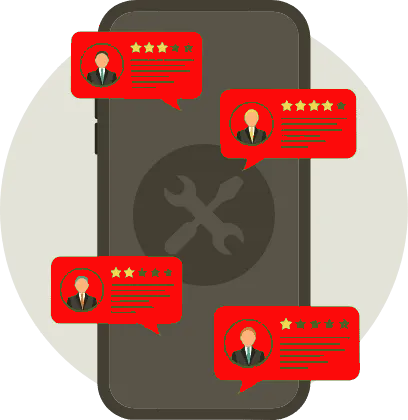 At Brandaid, we are resolutely dedicated to assisting businesses in cultivating brand recognition and trust by fostering affirmative reviews and revitalizing their brand identities. Our reputation management firm collaborates with Rize Reviews to offer results-oriented online reputation services, augmenting the likelihood of prospects selecting your company.
Over time, we have continually refined and enhanced our reputation management services, tailoring them to provide our clients with optimal online reputation management solutions that align with their marketing requisites and adhere to industry standards.
Brandaid's Online Reputation Management Services
Bolster Your Company's Status For Long-Term Success
Reputation Management Software
Does your current online reputation monitoring system take too much of your time and effort? Our reputation management firm has got you covered! We use state-of-the-art reputation management software to facilitate your reputation management online and streamline your review marketing efforts. Our review software supports localized SMS and email campaigns at any scale, regular online reputation monitoring and social media reputation management across multiple locations.
Online Reputation Repair
Are you one of the people asking, "How do I get something removed from Google Search?" or "How to repair my damaged reputation online?" Our online reputation marketing expert repairs and mitigates damage from negative reviews by looking into where they came from and providing reputation marketing solutions to fix them. We implement online reputation management SEO strategies, send requests to Google and other review sites to take down fake, offensive content related to your brand and boost your overall digital reputation management efforts to rebuild and strengthen your brand image.
White Label Reputation Management
Stuck with your web reputation management? Don't have the time to oversee your clients' business reputation management campaigns? Our reputation management agency offers white label reputation management solutions to improve your daily operations and help you focus on your core business. Once you sign up for our white label reputation management service, you get access to white label reputation management software and brandable reputation management online reports you can use during client presentations.
Review Response
Studies show companies that provide a review response to at least 25 percent of their business reviews earn an additional 35 percent revenue. Give an appropriate and prompt review response to your customer reviews and turn negative online feedback into marketing opportunities. Our online reputation management company analyzes your customer sentiment and crafts a well-thought and sincere review response. We also adopt your unique brand voice to ensure your best intentions come across well.
Review Monitoring
Need assistance with your online reputation monitoring? Our digital reputation management firm sets up a program to monitor and alert you about new reviews, whether positive or negative, so you always know where your online reputation stands. We leverage our online reputation management software to speed up your online review monitoring process and integrate with 100+ major review sites to bring all your online reviews in one place.
Review Generation
Every additional one-star Yelp rating and customer review can increase your revenue by as high as nine percent. Where does online review management fall in your task priorities? Our review management team builds and implements an automated process and system to drive new, positive reviews for your business month-over-month (MoM). We do not believe in paid reviews, so you can trust that our systems are honest and truthful. More importantly, our review software allows you to perform regular, real-time online review management, so you are well aware of the quality and quantity of reviews that come in.
SEO Reputation Management
Search engine reputation management is a delicate process. You need to familiarize yourself with various online reputation management SEO elements to drive campaign success. Online reputation marketing also involves promoting positive and desirable content and controlling the content and information accessible to the online community to gain reputation control and position yourself as a market leader. We understand that these online reputation management SEO methods can be tedious. That is why our reputation manager takes care of everything – from on-site optimization and GMB optimization to web reputation management.
Survey Campaign Management
Keep a pulse on your target audience and existing customers using our reputation management software. Our reputation monitoring team creates various types of customer satisfaction surveys to gather market insights and provide you with actionable insights to improve client engagement. You can also use our online reputation management software to deploy your customer experience surveys and launch other drip marketing automation campaigns.
Social Media Follower Growth
With approximately 3.78 billion social media users worldwide, social media reputation management becomes a vital component of any reputation management service. At Brandaid, we leverage your positive online reviews for reputation marketing to build your social media confidence. Our social media reputation management experts also create social media follow us templates and provide online reputation management tools that you can use to launch unlimited email and SMS campaigns. Reach out to our reputation management expert and let's talk about your social media follower growth strategy.
Online Product Reviews Management
Propel your eCommerce business forward with Brandaid's online product reviews management service. We use smart online review management software to facilitate a more efficient review monitoring process across your product listings. Whether you need help tracking reviews for Amazon, Best Buy, Overstock, Walmart, Target Plus or other eCommerce marketplaces, our reputation management agency can assist you. We can also manage your eCommerce website's review acquisition to streamline your processes and establish social proof on your product pages.
Business Listings Management
Outsource your manual citation management tasks to our reputation management company and save time, effort and money. Our online reputation management experts perform regular business listings audits to ensure all your brand information across local citations is SEO-optimized and up to date. We keep your online presence consistent across the web while adding more customer reviews and star ratings to your local listings. Schedule a consultation with us to know more about our business listings management service.
Email Marketing
Reach out to your best customers at the right moment with automated SMS marketing and email marketing services. We create personalized email and SMS review request templates to help you gain more customer reviews. Besides review generation, our email and SMS marketing services also support survey campaign management. Let us help you keep a pulse on your customer experience and launch targeted online reputation management campaigns through email marketing!
Two-Way SMS
Leverage two-way SMS marketing to launch review generation and customer survey campaigns and build a robust relationship with your target audience. Our two-way text messaging service allows you to strike up a conversation with your customers, create reusable templates for standard replies and provide a better customer experience.
QR Codes
At Brandaid, we make it easy for you to generate reviews with QR codes. Our team creates customized QR codes within one day – free of charge! Simply send the QR code to your client or have them scan it for reviews where it is convenient. Get your free QR code today when you sign up for our online reputation management services.
Why Choose Brandaid for Online Reputation Management
Get Professional Solutions That Drive Business Growth
Brandaid Internet Marketing Agency is one of the leading online review management companies that boast years of expertise and experience in digital reputation management. In 2020, Neil Patel acknowledged our reputation marketing firm as the third-best online reputation management company in the world. This recognition speaks volumes about the quality of our reputation marketing services.
Whether you need help with online review monitoring, reputation control, review management or other aspects of brand reputation management, our business reputation management firm can assist you.
Tailored Reputation Marketing Services
A common mistake some review management service providers commit is launching an all-encompassing reputation management service without understanding the clients' needs and market standing. At Brandaid, we believe that there is no one-size-fits-all approach to brand reputation management. Our online reputation marketing team performs in-depth market research and campaign analysis to create custom online reputation services that meet your needs, demands, and industry standards.
Comprehensive Monthly Reports
We treat all our clients as partners in business reputation management. As your dedicated online reputation management service provider, we won't keep you in the dark about your campaign progress. Our review management service team gives you access to our reputation management tools, dashboard, and campaign reports so you can track your online reviews anytime, anywhere. We also schedule regular consultations with your team to explain your monthly reports in detail.
Comprehensive Monthly Reports
We treat all our clients as partners in business reputation management. As your dedicated online reputation management service provider, we won't keep you in the dark about your campaign progress. Our review management service team gives you access to our reputation management tools, dashboard, and campaign reports so you can track your online reviews anytime, anywhere. We also schedule regular consultations with your team to explain your monthly reports in detail.
Dedicated Account Manager
Have urgent concerns regarding your reputation management strategy? Wondering, how do I get something removed from Google Search? We assign a dedicated reputation manager to handle your online review monitoring and reputation management campaign. In this way, you have a single point of contact for all your campaign concerns. Our review monitoring support team is also available on weekends and holidays to address all your urgent questions.
Robust Reputation Management Tools
Brandaid partners with Rize Reviews to develop online reputation management tools that streamline online reputation management services. As one of the most trusted review management companies, we ensure these reputation management tools have undergone a strict testing process. Moreover, we don't just use these online reputation management tools to launch our client campaigns. We also leverage our online review management software to manage our digital reputation and continuously develop new ways to improve its functionalities.
Diverse Industry Expertise
Are you in the healthcare, finance, car dealership, or construction industry? No matter your niche expertise, we can help you. Brandaid is one of the few reputation management agencies in the country that provide online reputation services for thousands of businesses from across industries. Besides reputation marketing services, our online reputation management company is also well-versed in various digital marketing practices, including link building, search engine marketing (SEM), and eCommerce optimization.
Smart Reputation Management Strategy
To repair a poor online reputation and maintain a positive brand image, you need data-driven online reputation management services geared towards achieving your full market potential. Our online reputation management company performs extensive reputation analysis to determine the current state of your online image and outline the best online reputation management strategies that meet your reputation goals. Call us now and let's discuss how to get more reviews and boost your online reputation management SEO efforts.