Facing a decline in organic visibility, engagement with your audience, or conversions? Confront your challenges in social media marketing with determination and lead the way with Brandaid Internet Marketing Agency's progressive social media advertising solutions.
As your reliable partner in social media advertising, we utilize social media insights to analyze your audience's characteristics, pinpoint customer inclinations and concerns, and formulate an exceptional social media advertising approach that brings unparalleled outcomes!
Outcome-Driven Social Media Advertising Service
Attain Optimal Returns at Minimal Expenses
Embarking on social media advertising can be a challenging endeavor, especially when lacking the expertise, knowledge, and skills necessary to guide the creation, execution, monitoring, and optimization of paid social media advertising endeavors.
Are you on the lookout for a reputable agency to oversee your social ads?
Brandaid Internet Marketing Agency is your companion in navigating the intricate and ever-evolving landscape of social media. Since 2005, we have been aiding local businesses, franchises, multi-location companies, and enterprises in fulfilling their social media advertising requirements.
What Constitutes Social Media Advertising?
Generate High-Converting Leads and Increase Sales Exponentially
In today's digital era, traditional marketing techniques no longer suffice to cultivate a devoted and profoundly engaged customer base. The need arises to meet people where they actively participate and fine-tune your brand message for specific audience segments, facilitating engagement with a wider consumer base at minimal expenses and yielding enhanced returns on investment (ROI).
Above all other marketing strategies, social media advertising magnifies your brand's visibility and offers profitable avenues to entice and nurture leads, ultimately converting them into paying customers.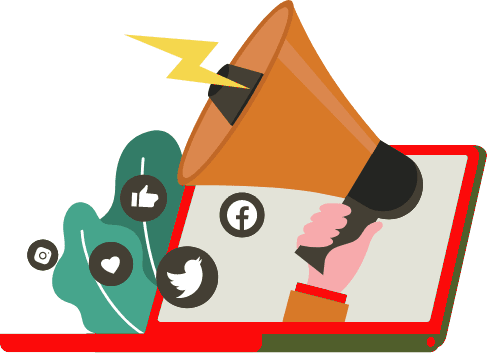 Advertising on Social Media - Path to Success
What does social media advertising entail?
What is social media advertising's edge over other digital marketing methods? Is it worth the investment?
Social networks advertising allows you to direct your campaigns to specific audiences by criteria, such as location, age, online behavior, interests and device use. Unlike other online marketing initiatives, you only have to pay for the number of clicks or impressions your social ads get when you're advertising through social media. This makes social advertising a high-ROI marketing strategy.
What sets social media advertising apart from other digital marketing techniques?
Does it warrant the investment?
Social media advertising empowers you to tailor your campaigns for particular audiences based on factors like location, age, online behavior, interests, and device usage. Unlike other online marketing endeavors, you only pay for the number of clicks or impressions your social ads accumulate when employing social media for advertising. This renders social advertising a high-return marketing strategy.
Dreaming big for your enterprise? Harness the potency of paid social media to supercharge your digital marketing endeavors and engage with prospective customers who are poised to convert!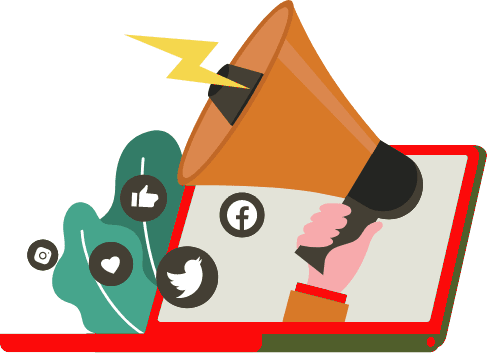 Social media marketing entails unpaid promotional initiatives. This signifies that you are not required to invest in showcasing your brand to your followers. Social media marketing encompasses optimization endeavors aimed at establishing brand recognition, forging meaningful connections, and driving engagement.
Conversely, paid social advertising focuses on refining social media advertisements to attain broader reach and heightened ROI. The essence of advertising on social media platforms is positioning your brand before individuals actively seeking what you offer in the present moment.
Enhance Results with Paid Social Media
As the number of individuals engaging with businesses on social media escalates, so does the level of competition. Let our social advertising agency refine your social media advertising approach and deliver social media ads that captivate the interest of your target leads throughout your marketing funnel.
Brandaid Internet Marketing Agency stands among the most established social media advertising firms, offering conversion-centric social media advertising solutions. We enable you to exert complete control over your social media ad budget and audience targeting strategy, optimizing the impact of your paid social media campaigns.
Connect with our social media advertising agency and unveil the finest social media platforms suitable for business niches with untapped potentials!
Why Your Business Should Utilize
Social Media Advertising
Optimize Your Visibility and Save Time, Effort, and Resources
The landscape of social media is in a perpetual state of evolution. Each year, novel social networks advertising platforms rise to prominence, and consumer buying patterns and expectations undergo significant transformations. Relying solely on organic social media campaigns is no longer sufficient.
Paid social media advertising emerges as one of the most effective means to capitalize on the potential of the finest social media platforms across various business sectors. It not only amplifies your customer acquisition, conversion, and retention rates but also helps you harness the power of strategic audience targeting. According to a study by Marketing Experiments, employing precise targeting strategies can elevate your conversion rates by up to 300 percent, and paid social media advertising can be your tool for achieving that.
Here are additional reasons why you should give substantial attention to your paid social media campaigns:
Elevate Follower Growth Rate
Paid social advertising empowers you to focus on specific audiences and swiftly reach new segments of the market. Through social media advertising, Brandaid has aided a gaming company in reaching a total of 290,137 individuals, acquiring 1,600 new Facebook followers, 1,000 new Instagram followers, and 155 new Twitter followers in a span of four months!
Amplify Organic Posts
Working within a constrained budget? Commence your advertising endeavors through social media to expand the reach of your organic posts. Various types of social media advertising platforms offer flexible avenues to transform your most successful content into social media ads, targeting individuals who exhibit a high level of interest in your offerings.
Elevate Website Conversions
Engaging in social media advertising effectively doubles your conversion rates while simultaneously reducing marketing expenses by a third. Within a span of six months after initiating a fitness center's paid social media advertising campaign, we achieved a website purchase conversion value of $143,319.92 at an average cost per click (CPC) of just $8.03.
Drive More Clicks and Views
Online users are notably active on various kinds of social media advertising platforms due to their interactive and enjoyable nature. Advertising on Facebook enabled a leading advisory firm to amass 41,074 clicks, and their Twitter advertising campaign garnered 625,932 impressions in merely 10 months.
Attract Qualified Leads
Tailoring your social ads landing pages to generate targeted leads and retarget those who did not convert on-site is possible based on your marketing goals. An integrated strategy for social media advertising allows you to customize your offerings and divide campaigns based on age, occupation, or gender, capturing qualified leads and guiding them into your sales funnel.
Acquire Actionable Insights
Which social networks ads garnered the most impressions? How effective was your social media ads landing page? Employing social media for advertising provides access to market insights and metrics, including clicks, visits, and comments, enabling you to gauge the effectiveness of your social media advertising efforts and shape future campaigns.
Present a Clear Value Proposition
How can your brand address a specific customer issue? Precisely targeted social media advertising enables you to highlight the unique selling points (USPs) of your core products or services and leverage compelling calls-to-action (CTAs) to motivate consumers to take tangible steps toward your desired outcome.
Generate Direct Sales
Whether introducing new collections to previous customers or deploying seasonal offers to prompt targeted consumers to make purchases, launching time-sensitive offers becomes more efficient and profitable through social advertising. Paid social media campaigns serve as a convenient, cost-effective means to influence consumers' purchasing decisions and generate increased sales.
Allocate Resources Strategically
One of the significant benefits of social media advertising is the real-time tracking of data, allowing you to set a practical budget for your social networking ads campaign. An eCommerce store engaged BrandAid for Facebook ads management, and with an approximate ad spend of $8,000, we generated $170,000 in revenue within a 28-day attribution window.
Social Media Platforms Your Business
Should Consider Utilizing for Advertising
Ensure Optimal Utilization of Your Resources
According to global social media statistics, online users visit over six distinct social media platforms per month on average, dedicating about 2.5 hours daily to social media usage. With a plethora of available business-oriented social media platforms and considering your potential customers' limited online social engagement, it becomes crucial to select the appropriate channel for displaying your social media ads.
Numerous marketers err by following trends without consulting social media advertising firms or conducting thorough research. Consequently, they invest in social media and advertising channels that are unsuitable for their specific niche, resulting in suboptimal outcomes.
At Brandaid, we assist you in identifying the most suitable business-oriented social media platforms for your industry, ensuring that the returns generated significantly exceed the resources invested in your social network advertising.
How Much Does Social Media Advertising Cost
Invest the Right Amount for Every Click and Impression
The expense associated with social media advertising is relatively modest in comparison to other advertising methodologies like print ads, broadcast advertising, and product placement. Despite this, some companies remain hesitant about delving into social media advertising for their businesses, often due to a lack of comprehension about its pricing structure.
The cost of Facebook advertising, Instagram advertising, Twitter advertising, and other social media ad expenditures hinges on various factors, such as:
Day of the week
Geographical location
Season
Demographics of the audience
Time of day
Specialized market
Quality and relevance of the social media advertisement
For instance, in sectors like apparel ($0.45 average CPC), travel and hospitality ($0.63), or retail ($0.70), Facebook advertising agencies managing Facebook ads for brands might encounter lower costs per click compared to those in finance ($3.77), consumer services ($3.08), or B2B ($2.52) markets.
Contemplating social media advertising? Uncover the average spending on social ads across the six most prominent social media platforms for businesses and initiate your Facebook advertising management and paid social media campaigns with us!
Brandaid's Social Media Advertising Services
Attain Expert Assistance to Reach Your Company's Growth Objectives
Social Media Promotion
Employing advertisements on social media is a guaranteed method to acquire fresh patrons and recurring business. However, our social and Facebook ads agency, which extends beyond BrandAid, does not halt there. In addition to social advertising and Facebook ad management services, we also provide solutions for social media marketing to boost your conversion rate optimization (CRO) endeavors. Our team of social media marketing professionals conduct thorough audits of your social media presence, crafting marketing strategies and implementing sustainable campaigns.
Social Media Supervision
Brandaid extends beyond being just a social and Facebook advertising enterprise; we operate as your social media managers. From establishing effective campaigns for social and Instagram advertising to tracking outcomes of social media advertisements and overseeing numerous social media profiles, our social media management agency handles it all. We assist you in selecting suitable social media platforms and crafting marketing tactics that yield optimal results, ensuring your online expansion.
Social Media Identity Supervision
The amalgamation of social media management and diverse forms of social media advertising, such as Instagram, TikTok, LinkedIn, and Facebook advertising services, enables our social media advertising agency to manifest your distinct brand voice. This guarantees comprehensive coverage of all customer touchpoints. Our aim is to establish a more inclusive and coherent brand identity across platforms. We can also connect you with our web design specialists to ensure your website aligns with your social branding and is ADA compliant.
Social Media Follower Enhancement
Cultivate a robust social media presence and attract high-converting followers on social media! Our representatives at Brandaid's social and Facebook advertising company harness data-driven strategies encompassing social media marketing and advertising, including Twitter, Pinterest, and Facebook ad management services. These strategies assist you in securing customer engagement and augmenting your social media following across platforms. We optimize your social profiles, produce captivating content, formulate a strategic posting timetable, and initiate targeted social media promotions to actualize your growth ambitions.
Social Media SEO
The advantages of social media and Facebook advertising services transcend mere enhancement of your social media presence. A well-devised social media advertising and marketing strategy can amplify brand exposure, driving qualified leads and traffic to your website. Our experts at Brandaid's social advertising and Facebook ad agency collaborate closely with you, discerning the most effective website content. This content is then shared on your social media platforms, bolstered through precisely targeted social media promotions and Facebook advertising services.
Website Design and Development
Cultivate trust with prospective clients by ensuring uniform page branding across your social media pages. Our representatives at Brandaid's social and Facebook ad agency work in conjunction with our web design specialists to properly integrate your social share buttons onto your website. Furthermore, we can incorporate Facebook reviews, integrate social login functionality, and embed YouTube videos on your site. Looking to establish striking and interactive designs for your business pages and social media ads? Contact our Facebook advertising agency and initiate a conversation about how we can assist you.
Video Production
Integrate video ads into your social and Facebook advertising strategy to elicit remarkable engagement rates! Is your team struggling with the competencies and resources needed to formulate captivating video ads that align with the prerequisites of diverse social media advertising platforms for businesses? Our experts at Brandaid's social media advertising and Facebook ad management services are here to lend a hand. We design video ads optimized for mobile and sound-off viewing, ensuring they don't exceed 15 seconds to encourage immediate viewer action.
Social Media Content Composition
Delegate your social media content creation to our social and Facebook advertising agency and let us help you solidify your status as the go-to brand for customers. We undertake comprehensive market research, industry analysis, and audience targeting assessments to glean actionable insights, steering our content creation process. Our experts in paid social media advertising also conduct A/B tests before launching your social ads, ensuring the development of finely optimized ad copy and landing page content that compels users to take swift action.
Social Media Reputation Management
Is your Facebook advertising strategy and social media marketing approach inclusive of reputation management? Remain vigilant over conversations concerning your brand, and don't allow any adverse content to mar your esteemed reputation. Our representatives at Brandaid's social and Facebook advertising agency collaborate with Rize Reviews' reputation managers to monitor your social media reviews. We streamline the publication of your review responses and harness the potential of positive reviews in your paid social ads.